Diamantino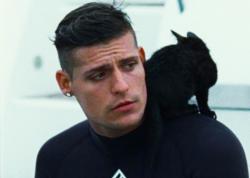 This sophomore feature from American filmmakers Gabriel Abrantes and Daniel Schmidt is a joyously bizarre tale that is a result of their wonderfully warped imagination. It won't play well with everyone, but if you get pulled in by their sheer lunacy you will love how it all pans out.

Title character "Diamantino" (Carloto Cotta) is the world's most successful football player. He is also a strikingly handsome dimwit. He's been sheltered from the rigours of the outside world by his doting father, and the pair of them enjoy the luxurious living that Diamantino's wealth has provided. The only flies in the ointment are his rather evil twin sisters (Margarida Moreira and Anabela Moreira), who are perpetually angry and always plotting ways to get their hands on his money.

Come the day of the World Cup Final, in which Diamantino is helping Portugal win, suddenly he misses a penalty shot. This one mistake loses the team the game, and a disgraced Diamantino loses his career. It is also the day his father dies of a stroke, emboldening the twins to come up with a dastardly plan to finally get their hands on his money.

Their scheme is like something out of James Bond movie where they do a deal with Dr. Lamborghini (Carla Maciel), a geneticist, to clone their brother in order to help a far-right Portuguese group in their subversive campaign to get the country to leave the European Community. There is a side effect to the drugs that are being pumped into Diamantino: he starts growing breasts. But the nice-but-dim footballer just dismisses them as lumps.

The only person that can possibly help is Alisha (Cleo Tavares), who is part of a government agency that has been spying on Diamantino due to a suspicion that he has been involved money laundering. Despite the objections of her lesbian girlfriend, this 30-year-old woman has now infiltrated his household by playing a teenage refugee boy that Diamantino has adopted.

Reading through the description alone makes this sound too strange for words, but the movie has an energy and a good-spirited madness that make it compelling. Cotto (with more than a passing resemblance to Cristiano Ronaldo) is pitch perfect as the too-innocent man-boy, ensuring that we are always in his corner when it seems like the whole world is plotting against him.

"Diamantino" deservedly picked up two awards at Cannes Film Festival's Critic Week, including the Grand Jury Prize — even though there were (and still are) critics who fail to see the sheer joy of this manic delight.
Roger Walker-Dack, a passionate cinephile, is a freelance writer, critic and broadcaster and the author/editor of three blogs. He divides his time between Miami Beach and Provincetown.
Comments on Facebook