Brighttburn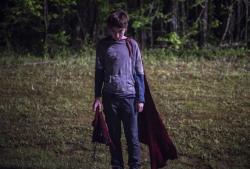 Available digitally today!
- - -
"Brightburn" is one of those "great concept" movies that snuffs out quickly due to execution.
With a trailer that had horror and superhero fans completely intrigued, the script by cousins Brian Gunn and Mark Gunn poses the question: What if a child from a distant world crash-landed on our planet, but instead of growing up to be Superman, he grew up to be Thanos? A fun idea for sure, but this slight 90-minute origin story doesn't really intrigue as much as you would hope.
The story opens swiftly: Tori and Kyle Breyer (Elizabeth Banks and David Denman respectively) are a young farming couple trying to make a baby. While they are canoodling in order to get that done, a rumbling occurs and before you know it there's a crash and strange glow off in the distance on their property.
We move quickly to a montage of little baby Brandon Breyer growing up until he is about 13 years of age (played by Jackson A. Dunn). The three have an idyllic life together until one night Brandon starts to hear strange voices in his sleep. Soon enough, he finds himself in a daze in the middle of the family barn, trying to get into a padlocked cellar. Oh, and the cellar is glowing red.
Mom finds Brandon and thinks he's just sleepwalking, but from this moment forward Brandon starts to act not only unusual but also violently. While mom doesn't want to believe her precious baby boy (who they found in a spaceship!) is a bad guy, she slowly arrives at the realization they might have adopted more than they could raise.
I won't reveal any more of the plot here because, well, there's not much to reveal; saying much of anything would pretty much give away the whole movie. Which is sort of what the trailer already did.
If you've seen the clever, intriguing trailer you know so much about what will happen that you spend a good hour of the film's running time just watching things happen you already know the outcome for. This does not make for an exciting or thrilling experience.
The biggest problem here is that the script falls somewhere in the format of an old slasher movie. The bad guy (here Brandon) just goes about carrying out all sort of gruesome acts, but we never really know why except that he's from another world and voices tell him to do stuff. But what world? What's the purpose of Brandon hurting people? Basically, what is the point of the entire movie?
There are some decent jump-scares, and all of the actors involved sell the story. They don't make it particularly silly (which it could have easily been) which is a plus and appreciated. It's just not all that interesting. While this is a fairly low-budget affair, the special effects are nifty when utilized. However, the gore seemed unnecessary. This really is a horror movie disguised as a hybrid/anti-superhero movie.
Basically "The Good Son" meets "Superman," "Brightburn" has its moments courtesy of director David Yarovsky ("The Hive") and has some game actors, but burn brightly it does not.
Brightburn
After a difficult struggle with fertility, Tori Breyer's dreams of motherhood come true with the arrival of a mysterious baby boy. Brandon appears to be everything Tori and her husband, Kyle, ever wanted -- bright, talented and curious about the world. But as Brandon nears puberty, powerful darkness manifests within him, and Tori becomes consumed by terrible doubts about her son. Once Brandon begins to act on his twisted urges, those closest to him find themselves in grave danger.
Info
Runtime :: 91 mins
Release Date :: May 24, 2019
Language :: Silent
Country :: United States

Cast
Tori Breyer :: Elizabeth Banks
Kyle Breyer :: David Denman
Brandon Breyer :: Jackson Dunn
Noah McNichol :: Matt Jones
Merilee McNichol :: Meredith Hagner
Caitlyn :: Emmie Hunter
Erica :: Becky Wahlstrom
Sheriff Deever :: Greg Williams
Deputy Aryes :: Annie Humphrey
Ms. Espenschied :: Jennifer Holland
EJ :: Steve Agee

Crew
Director :: David Yarovesky
Screenwriter :: Brian Gunn
Screenwriter :: Mark Gunn
Producer :: James Gunn
Producer :: Kenneth Huang
Executive Producer :: Nic Crawley
Executive Producer :: Kent Huang
Executive Producer :: Simon Hatt
Executive Producer :: Dan Clifton
Executive Producer :: Brian Gunn
Executive Producer :: Mark Gunn
Executive Producer :: Ali Jazayeri
Executive Producer :: David Gendron
Cinematographer :: Michael Dallatorre
Film Editor :: Andrew Eisen
Film Editor :: Peter Gvozdas
Original Music :: Tim Williams
Production Design :: Patrick Sullivan
Art Director :: Christian Snell
Set Decoration :: Kassandra DeAngelis
Costume Designer :: Autumn Steed
Casting :: Rich Delia

Kevin Taft is a screenwriter/critic living in Los Angeles with an unnatural attachment to 'Star Wars' and the desire to be adopted by Steven Spielberg.
Comments on Facebook