1 thru 10 of 1549 Stories
One California lawmaker is already working on a way to preserve at least some of the state's environmental muscle: Rebates for electric cars.
Volkswagen has agreed to pay up to 127 million Australian dollars ($87 million) to settle an Australian class action stemming from the 2015 diesel emissions scandal, the German automaker and a lawyer said Monday.
Talks continued into the night but there was no end to the strike against General Motors.
More than 49,000 members of the United Auto Workers walked off General Motors factory floors or set up picket lines early Monday as contract talks with the company deteriorated into a strike.
Activists blocked the main entrance to the Frankfurt Motor Show on Sunday in a protest against what they call the "climate and environment destroyers" produced by the auto industry.
The U.S. government's road safety agency is investigating complaints that the automatic emergency braking on the Nissan Rogue can turn on for no apparent reason.
Chancellor Angela Merkel says Germany's auto industry and the country as a whole face a "Herculean task" meeting the goals set for combating climate change.
Car shoppers seeking high fuel economy have two particularly intriguing choices this year: The Honda Insight and the Toyota Corolla Hybrid.
The headwinds buffeting the auto industry are making themselves felt at the Frankfurt Motor Show, with companies confronting a slowdown in sales due to global trade uncertainty and pressure from governments to lower emissions of air pollutants.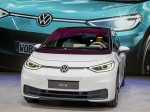 Volkswagen is rolling out what it bills as the breakthrough electric car for the masses, the leading edge of a wave of new battery-powered vehicles about to hit the European auto market.
1 thru 10 of 1549 Stories