'Transparent' Creator Jill Soloway Replaces Director Bryan Singer for 'Red Sonja'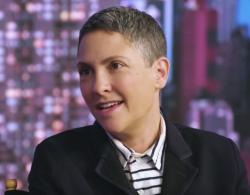 Jill Soloway, the Emmy Award-winning creator of "Transparent," has found their next gig: They will be writing and directing the upcoming action film "Red Sonja," which was previously helmed by disgraced filmmaker Bryan Singer.

Deadline reports Millennium Films replaced Singer with Soloway, who will bring a "bold new take" to the film.

"I can't wait to bring Red Sonja's epic world to life," Soloway told Deadline. "Exploring this powerful mythology and evolving what it means to be a heroine is an artistic dream come true."

The film is based on the '70s comic book series. Casting for the lead role will soon be underway, Deadline notes.

"Red Sonja" will follow Soloway's "Transparent" finale, a musical movie finale that they're directing for Amazon.

Singer was initially hired to direct "Red Sonja" with Millennium Films saying it would move forward with the film despite the allegations detailed in a bombshell report from The Atlantic, where a number of people came forward to accuse the "X-Men" director of sexual misconduct and rape — accusations he strongly denied. But the company changed course in February, saying Millennium Films was putting "Red Sonja" on hold.

The Atlantic report came after Singer was fired from the Freddie Mercury/Queen biopic "Bohemian Rhapsody," where he still earned a directing credit. That movie went on to earn a number of awards, including for Rami Malik, who took home an Oscar for Best Actor. It also earned over $903 million worldwide.

It was reported in June that Singer agreed to pay $150,000 to settle allegations he raped a then-17-year-old boy on a yacht 15 years ago.
Comments on Facebook