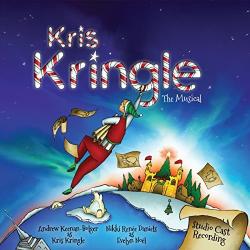 YELLOW SOUND LABEL

PRESENTS

"KRIS KRINGLE THE MUSICAL"

STUDIO CAST RECORDING

FEATURING ANDREW KEENAN-BOLGER, NIKKI RENÉE DANIELS, KIM CROSBY, JANINE LAMANNA, MARY STOUT, AND MORE

Yellow Sound Label has announced the release of the new studio cast recording of Kris Kringle The Musical. Kris Kringle is the brand-new Christmas musical which made its New York debut at Town Hall in November 2017. The album features an all-star Broadway cast including Andrew Keenan-Bolger, Nikki Renée Daniels, Janine LaManna, Kim Crosby, Mary Stout and more. Kris Kringle The Musical is created by Maria Ciampi (original story, book and additional lyrics), Tim Janis (music, lyrics and original orchestrations), Angelo Natalie (music and lyrics), and Frank Galgano and Matt Castle (orchestrations). The album was produced by Michael Croiter and Frank Galgano. To order the album, please visit www.YellowSoundLabel.com.

Kris Kringle The Musical tells the heartwarming untold story of the young Mr. Kringle. This captivating new holiday musical is a magical journey from the top of the world in the North Pole to the heart of what Christmas is truly about: hope, family and forgiveness.

The full cast includes Andrew Keenan-Bolger (Newsies) as Kris Kringle, Nikki Renée Daniels (The Book of Mormon) as Evelyn Noël, Gregory Violand (Carol) as Santa Claus, Kim Crosby (Into the Woods) as Mrs. Claus, Erick Devine (Seussical) as Roy G. Reedy, Janine LaManna (Seussical) as Ms. Horn, Mary Stout (Beauty and the Beast) as Grandma Kringle, Gabrielle McClinton (Chicago) as Tinselle Splade, Nick Varicchio as Elmer, Matt Densky as Sky Banner and Jackie Nyugen as Garland Pie. The ensemble features Derrick Cobey (The Scottsboro Boys), Amy Persons, Ani Djirdjirian, Kendal Sparks and Leah Horowitz (Follies). The Elf Children include Anthony Rosenthal (Falsettos), Kaylin Hedges and Jeremy T. Villas (Kinky Boots).

Kris Kringle The Musical is based on the screenplay and book of the same name by Maria Ciampi, who was born on Christmas Day. The album was recorded at the Power Station in New York City on January 9, 2018. The stage show was directed by with Pierre-Jacques Brault, with Charles Eversole serving as musical director.

Kris Kringle The Musical is available for licensing at www.KrisKringleTheMusical.com.

YELLOW SOUND LABEL is a Grammy Award-nominated, cutting-edge record company that produces established performers, up-and-coming artists and original cast recordings. The boutique label takes a hands-on approach in nurturing and producing passionate, focused performers and composers who create quality, noteworthy recordings. www.YellowSoundLabel.com

Enter to win!

Thanks for visiting EDGE!
Enter this contest
If you already have an account with EDGE, all you need to do is log in; we'll pull your address information from your account and simply ask you to verify it. If you do not yet have an account with us, register now! It's easy and free, and you'll never have to type in your personal information again. If you prefer to enter this information manually, you can use the manual entry link below.
Register
Manual Entry
Click here for contest rules.
* Please be aware that creating multiple accounts for the same person will disqualify you.