Top Story
Sam Smith explains how he came to sing a duet of "Get Happy" with Renée Zellweger for the film "Judy."
When all is said and done, this film it feels more like one of those safe 1940s Hollywood biopics than anything truly remarkable or revealing.
The delightful "A Night at Switch n' Play" is probably the queerest film we have seen in a very long time.
Be charmed by this French tale of speedo-clad swimmers who just want to win.
"Bit" lacks bite, but it shows promise in its young writer/director.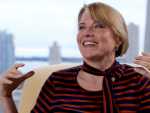 This documentary talks about the importance of LGBTQ+ television representation, as well as the particularities and power of queer fandom.