Stonewall 50: Dine Out for Pride - and make a sign!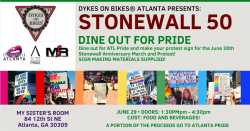 When:
Saturday June 29 at 1:30PM

Where:
My Sister's Room
1271 Glenwood Ave, Atlanta GA 30316

Map It
Visit Facebook Event
About:

In the predawn hours of June 28, 1969, the Stonewall Inn was full to the rafters when it was raided by police.

50 years later, on June 29, 2019, Dykes on Bikes® Atlanta invites you to pay homage to the past, present, and future of the LGBTQ movement that erupted that night.

With the evolution of Atlanta's LGBTQ+ community in the last few years, we're seeing more visibility than ever. Join local community organizers, business owners, and influencers discuss how we've flown our flags through the years and explore where we go from here. After, enjoy hang-out time and stick around for:

5:00pm - 7:30pm - ATLANTA QUEERSTORY PANEL
9:30pm -12:00am - THE BIG RAINBOW CABARET EXTRAVAGANZA!! An LGBTQ+ trip through the ages!