Guadalajara Pride The Ball: "El baile de los 41"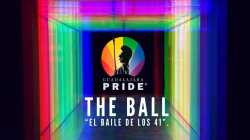 When:
Saturday June 22 at 4:00PM

Where:
Envy


About:

SÁBADO 22 DE JUNIO: Envy GDL
°13 categorías:
OTA European Runway.
OTA American Runway.
Drag Face.
Drag for the first time at a ball.
Best dressed OTA.
Bazaar Bizarre.
OTA Sex Siren.
Old Way.
New Way.
Hands Performance VS Arms Control.
Realness with a twist.
Vogue Femme OTA.
OTA Baby Vogue.

°5 jueces nacionales de las principales casas mainstream de
México.
°Espectaculares trofeos.
°Premios en efectivo

¡Porque somos, existimos y resistimos!
¡TE ESPERAMOS!