1 thru 10 of 29903 Stories
A recent survey by gay dating app Hornet that found 45% of queer men would support President Trump for re-election is highly dubious.
President Donald Trump said Monday he expects to announce his pick for the Supreme Court on Friday or Saturday, after funeral services for Ruth Bader Ginsburg and just days before the first presidential election debate.
Uncertainty surrounds the views about LGBTQ issues held by possible Supreme Court nominee Judge Amy Coney Barrett, a 2017 Trump appointee to the federal bench.
This week, the Human Rights Campaign and Showtime announced the recipients of its "Queer to Stay: An LGBTQ+ Business Preservation Initiative," which, among other recipients, includes Denver-based Blush & Blu.
Justice Ruth Bader Ginsburg's death drew mourners to the steps of the Supreme Court, where they sang "Amazing Grace" in the dark. Fresh off a rally stage in Minnesota, President Donald Trump learned of the loss and praised Ginsburg as an "amazing" woman.
Democratic presidential nominee Joe Biden hammered President Trump and leading Senate Republicans for trying to rush a replacement for the late Justice Ruth Bader Ginsburg, as pressure mounted on senators to support or oppose a quick vote to fill the seat
"Schitt's Creek," the little Canadian show about a fish-out-of-water family, made history at Sunday's Emmy Awards with a comedy awards sweep.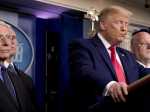 As the coronavirus pandemic began bearing down on the United States in March, President Donald Trump set out his expectations.
In recent years Justice Ruth Bader Ginsburg was surprised to find herself so popular that "everyone wants to take a picture with me."
Federal officials intercepted an envelope addressed to the White House that contained the poison ricin, a U.S. law enforcement official told The Associated Press on Saturday.
1 thru 10 of 29903 Stories