Watch: 'Schitt's Creek' Stars Dany Levy & Noah Reid Recreate Classic Hollywood Romance Scenes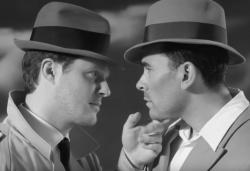 Ahead of the series finale, "Schitt's Creek" stars Dan Levy and Noah Reid — who play the comedy's soon-to-be husbands David and Patrick, respectively — recreated a number of classic Hollywood romance scenes for Entertainment Weekly.

The long-running show's series finale will air April 7 and EW celebrated "Schitt's Creek" by enlisting the men to parody several cinematic romances for their digital covers, including moments from "Casablanca," "Sixteen Candles, and "Nodding Hill."

The actors also spoke with EW about their roles, their characters' romance and more.

"A mid-series twist of fate delivered Reid to 'Schitt's Creek' in what was originally conceived as a short-lived role, until he melted everyone's hearts and led the show down a completely different path," EW writes. "Since Patrick proposed to David last season, the two have marched steadily toward the altar, slowed only by typical wedding planning drama — sky-high venue and catering costs, tragic spray tans that threaten to ruin engagement photos — but never any artificial, will-they-or-won't-they obstacles."

Check out the digital covers along with interviews with Levy and Reid below and click here to read the EW piece.



Comments on Facebook