Gay Pittsburgh: The Latest
The QueerCore Podcast, hosted by August Bernadicou, elucidates radical, LGBTQ activists' dark histories. It is a spotlight on the catalysts who fought in the front-lines, in the back-lines and in the trenches of civil rights.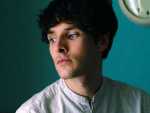 In the upcoming "Benjamin," Colin Morgan plays the queerly idiosyncratic title character — a filmmaker trying to navigate a new relationship with a French musician. EDGE spoke to Morgan about the film.
Presidential adviser Ivanka Trump unveiled a White House-backed national ad campaign highlighting alternative ways to start a career, an initiative targeting students, mid-career workers and the millions who are now unemployed because of the coronavirus.
"Riverdale" fans are rejoicing after actor KJ Apa, who plays Archie on the CW teen drama, took to TikTok to show off his quarantine beard and wild dance movies — while shirtless, of course.
The studio is largely empty, but Jimmy Fallon is out of his home and back to the "Tonight" show stage.
A growing body of research suggests heart attacks, angina and other heart events increase during winter and summer.
Disney+, a notoriously family friendly streaming service, decided not to censor Hugh Jackman's butt in a scene from "X-Men: Days of Future Past" despite doing so for Daryl Hannah in a scene from the 1984 comedy "Splash."
Residents of the Netherlands will have gender-free identity cards in five years, when a new national policy - and other ID card changes - come into effect.
What is contact tracing, and how does it work with COVID-19?
The couple who pointed guns at passing protestors in their St. Louis gated community allegedly tried to stop gay couples from moving into the neighborhood years ago, other residents have said.

Tomorrow the current TNT Champion wrestler Cody Rhodes is to defend his title against his out opponent Sonny Kiss, which got the ire of a homophobic Twitter fan.
Preston Sturges' 1941 screwball classic "The Lady Eve" is now available on Blu-ray from the Criterion Collection with a stunning new 4K digital transfer and a bevy of special features you'll want to dig into immediately.
The politically liberal city of Berkeley in Northern California is considering a proposal to shift traffic enforcement from armed police to unarmed city workers in a bid to curb racial profiling.
Politicians and public health leaders have committed to equitably sharing any coronavirus vaccine that works, but the top global initiative to make that happen may allow rich countries to reinforce their own stockpiles.

A COVID-19 vaccine will have an actual price tag. And given the prevailing business-centric model of American drug pricing, it could well be budget breaking, perhaps making it unavailable to many.
Used cars have historically been a smart alternative during an economic downturn. They don't depreciate as much as new cars and are less likely to overburden a buyer with a large loan.
Antoni goes one-on-one with fans who are looking for help cooking with whatever ingredients are in their kitchens.
With U.S. virus cases spiking and the death toll mounting, the White House is working to undercut its most trusted coronavirus expert.
The newly launched Virtual NYC Curator Collections presents a new series of guest curators selecting their favorites from hundreds of cultural experiences currently available online.
San Francisco supervisors Thursday will take up proposed changes to how the city governs adult sex venues.