Gay Pittsburgh: The Latest
Joshua Higginbotham, a Republican delegate in Putnam County, West Virginia, came out as gay in a social media post over the weekend, but he isn't giving up his religious or political beliefs.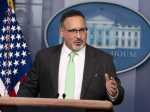 The U.S. Education Department expanded its interpretation of federal sex protections to include transgender and gay students, a move that reverses Trump-era policy and stands against proposals in many states to bar transgender girls from school sports.
Results from Planet Fitness' fifth annual survey reveals how Americans feel about the body type known as the "dad bod."
With the critically lauded, massively adored "In the Heights" film burning up screens this summer, we're all reminded that there's nothing quite like a big movie musical. Here are 10 musicals that deserve the big-screen treatment.
Shawn Paul Mazur and Matthew Blue presented New York City's longest running Sunday Rooftop party at the Monarch Bar in Midtown, with great music by BJ DJ Dawson and the amazing Queen host Skye Walker.
An investigative report has uncovered more than two dozen companies that wave the rainbow flag during Pride Month, but contribute to anti-LGTBQ politicians.
Looking for a getaway in Western New York near Niagara Falls, Buffalo New York's trendy Inner Harbor, or at the foot of the majestic Allegheny Mountains? You've come to the right place at Seneca.
One of the things many of us have been pining for most is the thrill of experiencing live entertainment in person. "Broadway at the Beach: the 21st Provincetown CabaretFest" looks to be just the answer.
In a new interview with Us Weekly, out Olympian Gus Kenworthy opened up about his friendship with "Bachelor" star Colton Underwood, who made headlines in April when he came out as gay.
Even if you are vaccinated, though, you don't need to change your behavior one iota if doing so makes you uncomfortable.
Through interviews with over 120 academics, designers, activists and other respondents, researchers have studied how considering the design and planning needs of LGBTQ people might make the public realm more inclusive.
In a new interview, comedian Kevin Hart denounces cancel culture — having been canceled himself for his history of making homophobic jokes, which led him to step down from hosting the Oscars in 2018.

Fast-food chain Noodles & Company is standing by its policy of gender-neutral restrooms after a Republican state lawmaker in Pennsylvania inveighed against the company in a Facebook post.
There are still industries that invest heavily in their websites so that people with limited device space and those who prefer to carry out tasks in a simpler manner have that option.
A new platform, created in partnership with SAGE and LifeCents and supported by the Wells Fargo Foundation, is helping LGBTQ elders reduce financial stress and rethink how to budget and strategize for the future.

Leasing a car now provides a number of advantages over a traditional financed purchase. To start with, you don't have to put as much money down.
EDGE leaps across the Atlantic to discover some of our favorite European skincare brands that can enhance your glow, boost confidence, and launch you back into the world of the living.

Nationwide, more communities are creating units in which mental health professionals are the main responders to psychiatric crises instead of cops.
So you're ready to hit the skies for an international flight after more than a year of COVID-19 lockdowns, quarantines and restrictions, but where can you go?
Following all CDC regulations, guests provided proof of vaccination or a negative COVID test before attending Super Size Queen Fridays held at Hardware Bar in Hell's Kitchen. Promoted by Shawn P. Mazur and Matthew Gagnon, with DJ Michael Borowski.