Gay Pittsburgh: The Latest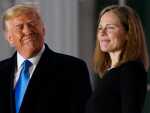 Equality advocates fear that with the confirmation of Amy Coney Barrett to the U.S. Supreme Court, a rapid dismantling of the rights and protections of LGBTQ Americans could get underway as soon as next week.
With love and pranks, Ian Paget and Chris Olsen are among millions of U.S. newbies looking to soak up social media stardom on TikTok.
Has Lady Gaga's "Chromatica" jockstrap been replaced? According to Twitter, the latest undergarment to own is Nike's simple black jockstrap.
June Millington is the very definition of a living music legend. A founding member of celebrated '70s all-female rock band Fanny, Millington and her bandmates, including sister Jean, paved the way for everyone from the Runaways to the Go-Go's.
Kim Kardashian West has once again caused a commotion on Twitter.
Bought in 2016 and built three years prior, the comedian's guarded and gated estate is 3,330 square feet and features all the bells and whistles you'd expect in Bel Air.
A recent survey proves that many Americans still have a problem discussing issues of sexuality and intimacy.
Non-binary British pop singer Sam Smith opened up to Zane Lowe in an interview for Apple Music about their third album and their hopes to have children.
Fans are speculating if Luke Evans and his boyfriend Rafa Olarra have called it quits...but the "Beauty and the Beast" star is clearly living his best life, sharing a steamy shirtless selfie to Instagram Tuesday.
The White House and many Americans have pinned their hopes for defeating the COVID-19 pandemic on a vaccine being developed at "warp speed." But some scientific experts warn they're all expecting too much, too soon.
On Monday, Republican Sen. Susan Collins cast her vote against President Donald Trump's Supreme Court pick without any speech and quickly headed home to Maine to try to save her political career.
Faith-based stories like this are the stuff that movie dreams are made of, because we love to live beyond the limits of our meager lives.
How comfortable would you be taking a road trip to a destination with no LGBTQ anti-discrimination laws? It's a conundrum that many LGBTQ travelers face as they choose drivable destinations over long-haul flights.

The COVID-fueled surge has tapered off as patients venture back to doctors' offices. But medical professionals and health experts predict that when the pandemic is over, telehealth will still play a much larger role than before.
If the Supreme Court throws out the Affordable Care Act, your finances and your future could pay the price.
Daimler, the maker of Mercedes-Benz luxury cars and Freightliner trucks, saw third-quarter profit rebound as the company clamped down on costs and auto sales recovered after the coronavirus lockdowns.
Surging COVID-19 cases in Chicago prompted Gov. J.B. Pritzker on Tuesday to ban indoor dining and bar services and limit the number of people gathering in one place.
If President Donald Trump wins reelection next week, it seems unlikely he will unveil the health plan he's been promising since before his election in 2016. Still, other aspects of health care could be featured in his second-term agenda.
A solo trip to the Hudson Valley offers one writer the opportunity to ponder his queerness among cemeteries, towering sculptures and a stroll down Main Street.
Should the government pay bars, many restaurants and event venues to close for the winter? Some experts say yes.