Gay Pittsburgh: The Latest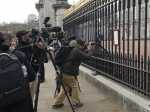 The U.K.'s national broadcaster switched instantly into mourning mode when Prince Philip's death was announced Friday. ome Britons saw the BBC's actions as a fitting mark of respect. For others, it was a bit much.
people who didn't test positive for COVID face difficulty getting treatment and disability benefits. And, sometimes as aggravating, many find that family, friends or even doctors have doubts they contracted COVID at all.
The Anti-Defamation League has called for Fox News to fire prime-time opinion host Tucker Carlson because he defended a white-supremacist theory that says whites are being "replaced" by people of color.
Reaction to the death of Grammy-nominated rapper DMX, who died Friday at 50.
Los Angeles County plans to return prime beachfront property to descendants of a Black couple who built a seaside resort for African Americans but suffered racist harassment and were stripped of it by local city leaders a century ago.
The chief medical examiner who ruled George Floyd's death a homicide testified Friday that the way police held him down and compressed his neck "was just more than Mr. Floyd could take," given the condition of his heart.
The brain of Phillip Adams — the former NFL player who killed a South Carolina physician, three family members and a repairman before fatally shooting himself — will be tested for a degenerative disease that has affected a number of pro athletes.
How have Hollywood and Broadway responded to an exposé detailing routine abuse and bullying by producer Scott Rudin? Mostly, with crickets.
The House Ethics Committee has opened an investigation of Rep. Matt Gaetz, citing reports of sexual and other misconduct by the Florida Republican, the panel's leaders said Friday.
LGBTQ YouTube series Tokyo BTM takes a tourist-friendly, cheeky, and honest approach to exploring all that Tokyo has to offer.
Hardships caused by the coronavirus pandemic have forced former sex workers in Mexico back into the trade years after they left, made it more dangerous and reduced some to having sex in cars or on sidewalks for lack of available hotels.
Writer-director Neil Burger ("The Illusionist," "Divergent") aims for the stars with his new feature, "Voyagers," but his tormented social allegory weighs the project down.
Nike has settled its suit against art collective MSCHF for unauthorized modification of Nike sneakers into "Satan Shoes" released in conjunction with the latest single by out rapper Lil Nas X.
Doctors in Japan announced Thursday they have successfully performed the world's first transplant of lung tissue from living donors to a patient with severe lung damage from COVID-19.
Unlike investment portfolios, annuities or pensions, Social Security is the only retirement income that is guaranteed for life and backed by the full faith and credit of the United States government.
Edmunds' test team recently published the results of its real-world range testing for electric vehicles. Notably, every Tesla the team tested in 2020 came up short.
Beaten down by the pandemic, many laid-off or idle restaurant workers have pivoted to dishing out food with a taste of home. Some have found their entrepreneurial side, slinging culinary creations from their own kitchens.
The number of U.S. suicides fell nearly 6% last year amid the coronavirus pandemic — the largest annual decline in at least four decades, according to preliminary government data.
Spring offers an ideal time to experience Palm Springs, whether you're looking for an outdoor adventure or poolside relaxation.
During Boston's annual Gay Pride Parade in June, these establishments are much busier than normal. Here are the top 5 LGBTQ bars in B-town.