1 thru 10 of 27473 Stories
The Los Angeles Police Department is gathering evidence and video footage in an administrative investigation into an off-duty officer who shot and killed a man who authorities say attacked him inside a Costco Wholesale warehouse store.
A swastika has been found in a Jackson County cemetery where World War II soldiers are buried.
An off-duty police officer opened fire inside a Costco Wholesale warehouse store, killing a man who had attacked him and wounding two others, the Corona Police Department said.
Planned Parenthood is building the stage for another possible fight over abortion in Alabama: a large women's clinic that's under construction despite the state's passage of a near-total ban on abortions.
The cast of Fox & Friends showed their support for the Texas "Save Chick-fil-A" Bill Wednesday with a segment catered by Chick-fil-A.
Winston McKay, 40, was shot and killed by a stray bullet while walking his dog after celebrating his and his husband's anniversary early Monday morning.
President Donald Trump says his wife, first lady Melania Trump, is an icon on the same order of Jacqueline Kennedy Onassis.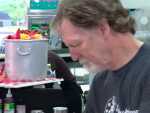 The Baker who won a narrow victory in the Supreme Court after refusing two men a wedding cake now faces a suit from a transwoman who says he discriminated against her by denying her a gender transition cake.
Emails filed in an ongoing lawsuit show novelist Nicholas Sparks chastised a former headmaster at the private Christian school in North Carolina he runs for promoting a pro-gay "agenda." Sparks denies he discriminates.
The New Yorker's Ronan Farrow sure knows how to get a media crowd buzzing.
1 thru 10 of 27473 Stories