Top Story
Runway met Broadway when The Blonds took to the stage of the splashy musical "Moulin Rouge."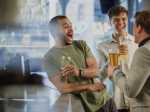 Beer and wine tourism is on the rise, as seven in 10 Americans have traveled to a destination specifically to sample the alcohol in the region.
Highlights from Wednesday's shows launching Milan Fashion Week of mostly womenswear previews for spring/summer 2020:
The storied family-owned knitwear brand is seeking to make waves inside the world of Italian fashion under the artistic guidance of French designer Jean-Charles de Castelbajac.
There were glittery runway shows Monday as London Fashion Week showcased some of its top stars including Burberry and Christopher Kane.
Launched in 2010, the Pets for Life program now operates in at least 27 cities and towns, including Atlanta, where it began in 2012. The program provides free or low-cost veterinarian services, supplies and food.