1 thru 10 of 4249 Stories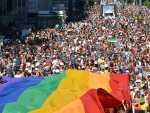 Feeling like there's so much to do, so little time, and not sure where to eat and drink before and after it all? Here are our top picks for some sweet spots in Times Square and it's delightful LGBTQ-friendly adjacent neighborhood, Hell's Kitchen.
The fast-growing market for meat alternatives has a surprising new player: Tyson Foods.
Texas Governor Greg Abbott has signed a "Save Chick-fil-A" bill that critics argue will allow the company to continue its donation to anti-LGBT causes.
Starbucks and environmental charity Hubbub are launching a trial program to lend passengers at Britain's Gatwick Airport reusable cups while waiting for their flights in hopes of cutting down on waste.
U.S. regulators are urging food-makers to be more consistent with labeling terms like "Best By" and "Enjoy By" that cause confusion.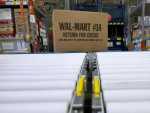 Walmart is now offering to have one of its employees deliver fresh groceries and put them in your refrigerator when you're not home.
Are robot baristas the future of South Korea's vibrant coffee culture?
State regulators gave final approval Monday to a rule that means coffee won't have to carry ominous warnings that the beverage may be bad for you.
Poland Spring announced Monday a plan to use 100% recycled plastic for all its noncarbonated water containers, a move that comes amid growing concern about plastic pollution.
A former employee of celebrated chef Thomas Keller is suing him and his three-star Michelin restaurants for discrimination, saying she was denied a job transfer and ultimately let go because she was pregnant.
1 thru 10 of 4249 Stories