At a trendy restaurant in Iran's capital, customers sip Coca-Cola through bending straws as waiters bring caddies to their tables full of Heinz ketchup and two types of Tabasco sauce.
Another apparent incident of someone licking ice cream at a store has surfaced. This time it's in Louisiana.
Bioengineers are taking on the next tougher challenge: growing structured cuts of meat like a steak or a chicken cutlet.
Montana officials said earlier this week that they confiscated over 800 bottles and cans of alcohol in a raid just days after the Yellowstone Club signed a deal to settle charges of serving booze at unlicensed bars.
Do you want science-based information about diet but don't know whom or what to believe? You're not alone: More than 80 percent of Americans are befuddled.
A saloon in a New Mexico ghost town attracts regulars with diverse backgrounds and opinions with a promise to "have dialogue."
At the Tour de France, there are two types of eating. There's food for pure pleasure, consumed with gusto by those who follow the race. And there's food for fuel, gobbled hungrily on and off the saddle by the riders.
Plant-based diets have deep historical roots, and a longstanding connection with the political left.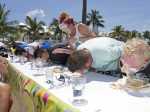 A Key West man has won the Mile-High Key Lime Pie Eatin' Contest on the subtropical island where the pie originated.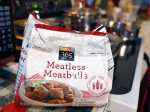 A federal lawsuit says Mississippi is violating free-speech rights by banning makers of plant-based foods from using terms such as "meatless meatballs" and "vegan bacon."